PRUDE Inc. seeks an innovative, creative and dynamic individual to coordinate the ALL Women Project, which highlights All Women with All Challenges from All Stories. The role of this Project Coordinator will work to provide insight, resources, tools and actions to advance inclusion and acceptance of all people, and specially advance women equality and status in this region. PRUDE Inc. is proud of taking on this project that is directly supported by the Feminist Response and Recovery Fund from the Women and Gender Equality Canada. The project will be implemented from October, 2021 to March, 2024.
This position reports directly to the Managing Director of PRUDE Inc..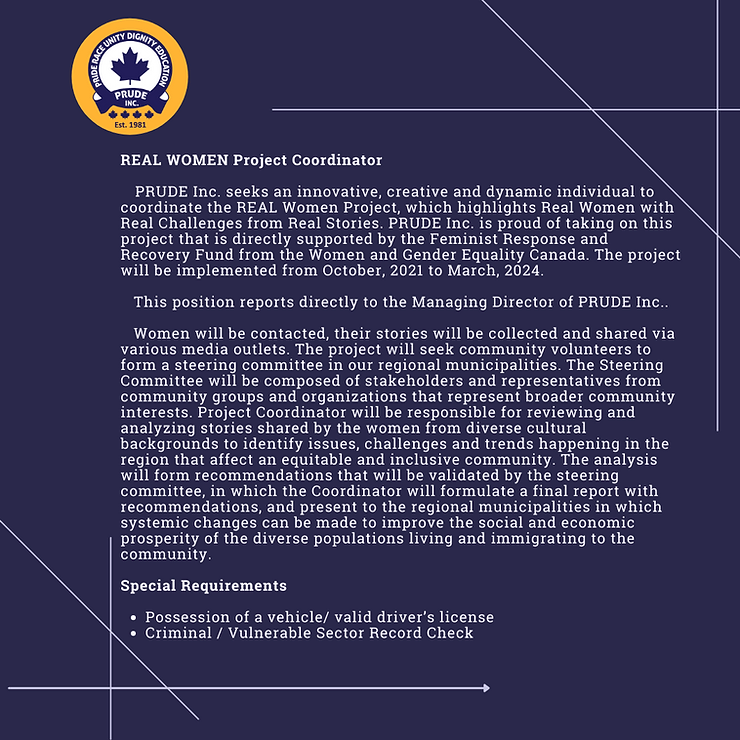 Essential Duties / Responsibilities
The purpose of the ALL Woman's Program is to address and/or remove systemic barriers impeding the progress and advancement of women in this region, in all their diversity, mainly in three priority areas:
Encouraging women and girls in leadership and decision-making positions
Improving women and girls' economic security and prosperity
Ending gender-based violence
Women will be contacted, their stories will be collected and shared via various media outlets, and this process will be developed, coordinated, and implemented till March 2024. The project will seek community volunteers to form a steering committee in our regional municipalities. The Steering Committee will be composed of stakeholders and representatives from community groups and organizations that represent broader community interests. Project Coordinator will be responsible for reviewing and analyzing stories shared by the women from diverse cultural backgrounds to identify issues, challenges and trends happening in the region that affect an equitable and inclusive community. The analysis will form recommendations that will be validated by the steering committee, in which the Coordinator will formulate a final report with recommendations, and present to the regional municipalities in which systemic changes can be made to improve the social and economic prosperity of the diverse populations living and immigrating to the community.
Knowledge, Skills and Abilities
Superior interpersonal, persuasive communications, compelling presentation and effective writing skills
Strong leadership and management skills including the ability to motivate and support individuals
Demonstrated diversity management experience that includes developing and managing diversity initiatives in complex corporate, academic, or non-profit environments; diversity communications strategies; external diversity relations; employee training; executive development, and presentation to board of directors and senior management
Considerable skills and business maturity in managing a diversity agenda, interacting with and influencing executive decision makers, offering consulting resources and communicating to build relationships and credibility for self
Demonstrated ability to work effectively and establish partnerships to work collaboratively among departments and in the community
Ability to take personal accountability for achieving results
Demonstrated leadership, ethical and professional standards
Dedication to continuing education, professional development and effectuate diversity change efforts
Special Requirements
Possession of a vehicle/ valid driver's license
Criminal / Vulnerable Sector Record Check
PRUDE Inc. is committed to employment equity and encourages applications from all qualified women and men, including aboriginal people, persons with disabilities and members of visible minorities. In accordance with Canadian immigration requirements, this competition is open to Canadian citizens, landed immigrants, and people who are eligible to work in Canada.
How to submit application
Your job application MUST include a resume and a cover letter, and MUST be submitted to Romy Lai via email: [email protected] the latest by midnight, October 22nd, 2021.
We thank everyone who has applied, and only candidates chosen for interviews will be contacted within ten working days from October 22nd, 2021.
PRUDE's contract
Contract length: the current contract ends on March 31st, 2022. This annual contract will be renewed by PRUDE Inc. with you, depending on the yearly funded programs via contract agreements with PRUDE Inc.'s funding partners.
Application Deadline: 2021-10-22
Expected Start Date: as soon as possible
A group health insurance on life, dental and vision will be provided per the signing contract.