Dear NWLP Graduates,
Congratulations once again on achieving this milestone. Leadership is not an easy journey, and it requires courage, determination, and a willingness to learn and grow. You have all shown these qualities throughout the program, and we are very proud of the progress you have made. We are confident that you will continue to thrive and make a positive impact in your spheres of influence. Keep up the great work and never stop striving to be your best selves. Remember, our doors at PRUDE Inc are always open. Do not become strangers
– Christine Eruokwu, NWLP Coordinator.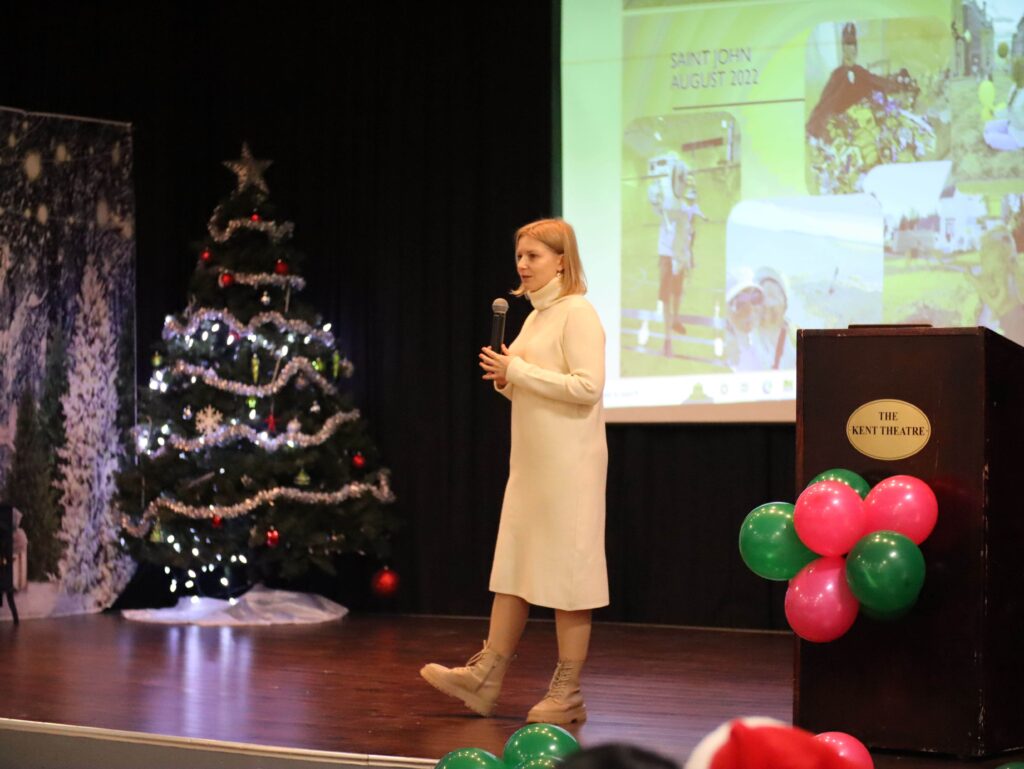 On December 16, 2022, Cohort #8 of the Newcomer Women Leadership Program (NWLP) celebrated their graduation at an inaugural NWLP end-of-year event at the Kent Theatre. The ceremony was attended by the celebrants' guests, previous NWLP participants, PRUDE Inc staff, guest speakers, and well-wishers, who listened with rapt attention and watched in awe as the women shared powerful stories about their past, present and future in Canada.
At the event, the graduates received certificates of completion and gifts, including a journal and pen to track their leadership journey, a NWLP tote bag, and 'Secrets to Becoming An Effective Public Speaker,' a book by Jim Kokocki, author, former president of Toastmasters International and a long-serving NWLP guest speaker.
PRUDE Inc. Board of Directors were represented by Jasmine Grimes and Rufina Ajalie, Councillor Paula Radwan from the City of Saint John and NWLP guest speakers: Bernadette Fernandes, Dalia Das, Jim Kokocki, and Seun Richards shared their perspectives on the program while highlighting the immense value newcomers bring to our community. Faith Omo-Eguaoje delivered a rousing speech on behalf of all NWLP graduates.
The comperes, NWLP stars Mildren Toro and Song Kim, lavishly dressed in their cultural attires, put up a great performance on stage, with technical support from Daniel Toro. PRUDE Inc staff Omar Morad, Damon Levine, Rob Sancton worked tirelessly with the team of volunteers led by Chidinma Oshiokenoya-Moses, Magarita Mora and Teodora Caraignat to ensure the event was successful.
With the support of Shane Cassidy of Kent Theatre, Yessika Veliz of MII Balloons and Bridget Ibukun of Elegance by Bridget, the venue was magically transformed to match the season. The atmosphere was made even more magical by Usman and Jihen of 'Canada and Beyond' photography.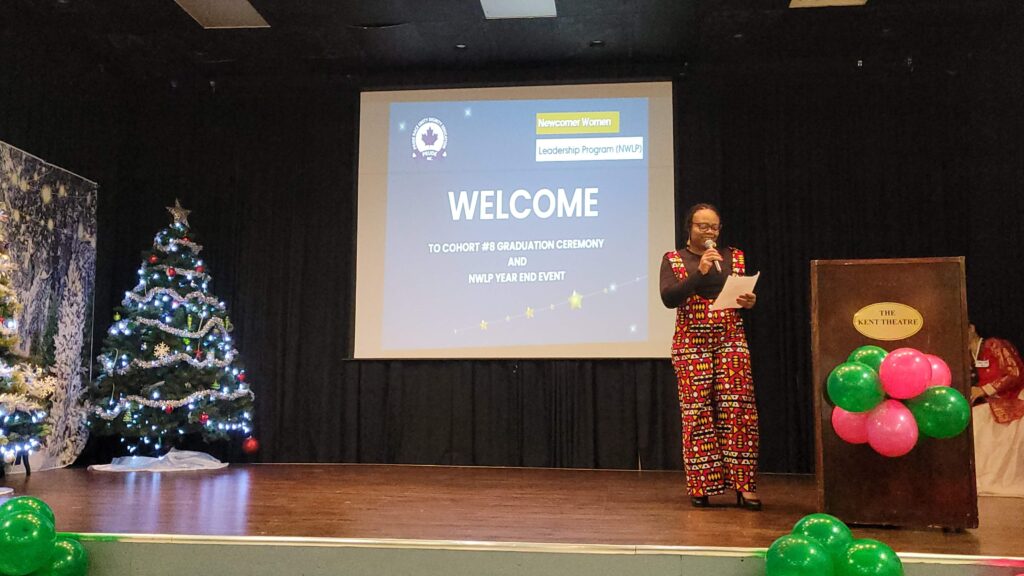 If you are wondering what the NWLP is all about, It is a six-week leadership program geared towards empowering newcomer women in the Greater Saint John Area with 3Cs: connection with self, connection with community resources and connection with the right career. It aims to empower and support newcomer women in developing their leadership skills and confidence, build strong community connections and create a network of support and mentorship among participants.
PRUDE Inc partnered with Elis Moreira and Elizabeth Nombro of Laura Gatien Associates to provide a joint leadership and mental health workshop for cohort #8 participants. This collaboration was prompted by the urgent need to help newcomers navigate new and challenging terrains by accessing mental health support from professionals in a safe and comfortable environment. The workshops explored a broad range of topics such as Mental Health at a Glance, Adapting to a New Culture, Self Esteem and Confidence, New Immigrants at the Workplace, Self Care Best Practices and Building Healthy Relationships.
The leadership component of the workshop featured amazing facilitators and their respective topics as follows:
June Jiajun – Techniques for Creating Compelling Presentations with Canva
Mildren Toro – Effective Journaling for Leaders
Song Kim – Money Management Skills: How to $ave on Groceries in Canada
Dahlia Das – Project Management 101 – Foundations of Project Management in our Daily Lives
Seun Richards – Setting SMART Goals, Effective Time Management, Change Management and Risk Management
Eleanor Austin – Be the CEO of YOU: Build Your Brand on LinkedIn
Rufina Ajalie – Personal and Professional Branding for Leaders
Hannah Duguay – Developing Leadership Qualities through Volunteer Opportunities
Jim Kokocki – The Art of Public Speaking
Tekena Ikoko – Emotional Intelligence for Leaders
Tanya Chapman – Negotiation, Persuasion and Influencing Others with Voice Power and Executive Presence
Deanna Dobbin and Kelly Langille – Best practices in Personal Finance
Sherry Dumont – Writing Winning Resumes, Finding the Right Job & Keeping it
Heather White Brittain – Building Meaningful Relationships in the Community
You would agree with me that it takes a village to raise champions. With the deepest sense of gratitude, I'd like to thank the Cohort #8 facilitators for their time, expertise and mentorship of our women leaders. The six-week leadership workshop is made possible through funding from IRCC, proudly supported by RBC Foundation and skillfully executed by business leaders in the community. PRUDE Inc is truly grateful for the incredible support provided to our newcomer community.
If you or someone you know would like to be a part of NWLP as a participant or facilitator, please fill the registration form and reach out for more information. Let's create more impact together!