Diversity Champion Awards
PRUDE Inc. (Pride of Race, Unity & Dignity through Education) is holding its sixth annual event to recognize Saint John employers, organizations & individuals for their best practices in promoting Diversity, Inclusion and Equality. We know diversity matters!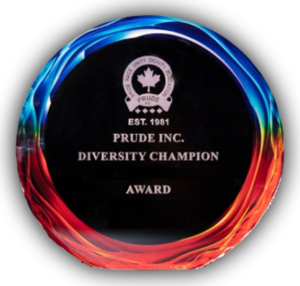 Since 2016, PRUDE Inc.'s Diversity Champion Awards have recognized the Saint John region's diversity champions for their outstanding efforts in promoting diversity, inclusion, and equality in our community. So, in an effort to recognize even more candidates, new initiatives, and great community projects, we have made the decision to postpone our 6th awards ceremony for this year, and move this important celebration to next year–November 2023.
Our diversity champions since 2016
by the numbers
Corporate Sponsors And Supporters
Our Past Sponsors And Supporters
Embrace Diversity and Become a Sponsor
You can support the Diversity
in our community being a sponsor
We recognize that this event would not be possible without your support and donations.
And we appreciate your continued support, which helps us carry on our work in the community.